FEATURE: The Ramsay Home Project
We love what the
RamsayHome
Project is all about so we got in touch and asked for regular updates. They were only too happy to oblige.
Here, in their first CityHippy update, we find out how tough it was even talking about building an alternative energy house in Canada's oil heartland. We look forward to following their progress. Enjoy.
---
"That will not work."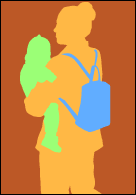 This was the response with which my husband and I were met when we excitedly told our good friend about the geothermal heating we are installing in our currently-under-construction house in the heart of Calgary, Alberta, Canada. We should have laughed. Instead, we stammered out justifications. How could we have forgotten? Our friend, like many Calgarians, earns a robust living extracting black gold from the earth.
Our province boasts annual surpluses from the riches under the soil: we pay no provincial sales tax unlike our fellow Canadians, and this year every Albertan is receiving a $400 "prosperity cheque." Building a house or driving a vehicle which does not consume an obscene amount of fossil fuel is akin to biting the hand that feeds. Trying to convince the dutiful masses that oil exploitation is finite and perhaps unwise is, in many Calgary circles, heretical.
Why are we aiming to build a sustainable low-impact home? When we consider the options, weighing consequences for the land, human well-being, and the global political, social and environmental climates, only a sustainable home will work.
Our construction project is just getting started; check back for weekly updates on our adventure.
M from the
RamsayHome
project
---
Oh this is gonna be fun...be sure to drop by their website to offer encouragement etc.
Namaste
Al
Technorati tags:
cityhippy
green
environment
sustainable
alternatives
energy
diy
house
build
architect
home
calgary
alberta
canada
oil
geothermal