FEATURE: The Ramsay Home Project (part 6)
Here in part (
see part 5 here
) of our regular updates from
RamsayHome
we hear good news about how spring has sprung and the project seems not only on track but better resourced too. Plus the Ramsay's got to spend time in a very cool place. Last post all seemed gloomy but it is funny how things seem to work out in the end eh?
---
Inspiration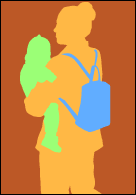 Work on the
Ramsay
House Project is days away from beginning again – just in time for spring. We are thrilled with the new team we are working with. They have all kinds of experimental side projects on the go, including a community housing project entirely off the grid, and a few straw bale houses throughout the province.
In the meantime, we are lucky to have found a permanent place to live until the house is ready. (We've been house-sitting vagabonds since last fall.) My brother is letting us stay in his apartment while he is away at university. And this is no ordinary apartment.
We are living at Prairie Sky Co-housing – Alberta's only co-housing development.
www.prairiesky.ab.ca
. It is an inspiring project: many families sharing resources including the centre of conviviality, a large common kitchen and dining room where residents eat together weekly. All maintenance and chores are shared, as are decisions and resolutions to any friction that arises. Community consensus is the primary mode of decision making.
Some co-housers have established a car share. There are flourishing community gardens weaving through and surrounding the property. Children and teens have there own common rooms in the common house, and the kids have input in the consensus process as well. It is a marvellous place to find support and inspiration during this transitional time. Living densely, communally and sharing resources is a wonderful way to live an ecological life. Thank-you Prairie Sky for welcoming in a couple of
Ramsay
vagabonds.
M from the
RamsayHome
project
---
What great news...not only is the project seemingly re-invigorated but the Ramsay's have had the chance to spend time in a positive co-housing scenario which must be a fascinating experience and no doubt the people there are superb.
Namaste
Al
Technorati tags:
cityhippy
green
environment
sustainable
alternatives
energy
diy
house
build
architect
home
calgary
alberta
canada
oil
geothermal
history
co-housing