FEATURE: The Ramsay Home Project (part 7)
Here in part 7 (
see part 6 here
) of our regular updates from
RamsayHome
we hear good news about just why the regular updates have tailed off over the past two months. Turns out a bigger construction project got in the way. And as excuses go they do not get better than this one. Trust me I would know.
---
Return of the Ramsays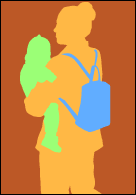 The Ramsays are back after a two month hiatus. We are proud to announce the greatest 'construction project' of all – the birth of our son Dexter.
We had begun dreaming and planning the Ramsay House for a future family, and many of our decisions were based on what we would like to teach our children. A small bedroom with a big window is just as good as a large bedroom. The floor plan has a large central space for a kitchen, gathering table and living room, where we can spend time as a family working on homework, web development, and finger-painting.
We wanted to teach our children to honour the energy of the Earth and the Sun, by minimizing our use of fossil fuel and working in passive solar design. Our little fellow loves to gaze out the windows here at the lilac trees and early summer sunlight, and we are overjoyed that soon we'll be bringing him home to a place built just for him.
In the meantime we are sleep deprived zombies. For future reference, it is unwise to embark on a massive construction project, and an atypical one at that, while pregnant, birthing and nursing. More than unwise, it is madness. But we are settling in to a rhythm and life is now more wonderful and full of optimism than ever. We are borrowing this world from our son, and we aim to take the very best care of it that we can as an act of love.
M from the
RamsayHome
project
---
Ah the bliss of becoming a parent...well done Ramsays. Enjoy.
Namaste
Al
Technorati tags:
cityhippy
green
environment
sustainable
alternatives
energy
diy
house
build
architect
home
calgary
alberta
canada
oil
baby