FEATURE: The Ramsay Home Project (part 3)
Here in part 3 (
1
2
) of our regular updates from the
RamsayHome
Project we hear about a slight glitch but how overall the dream is becoming reality.
---
"Let there be love...and construction"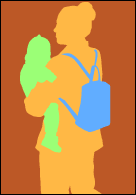 This week saw many changes at the Ramsay house. Our first floor is framed, so we are able to stand and look out onto our future view. It is breathtaking. The house faces north on a steep hill, on a bluff between two river valleys. While modest in size, the living area feels majestic in scope. The Warmboard is installed, and the thought of sitting cosily in our earth-heated home looking out over the valley and prairie is almost painfully tangible.
This perspective is a touchstone, yet there is still a long way to go. Unfortunately we can now count ourselves among the estimated 5% of homeowners who have to switch contractors mid-project. Our contractor brought expertise and enthusiasm, and we wish him the best. Now we turn to a long-time family collaborator who has far more resources in Calgary's current cut-throat building boom, and we hope will be able to complete the house by fall.
Another new perspective: we are not alone! Thank-you to the good folks at React Energy who passed our URL on to like-minded builders over at
www.coleyhomes.com
. They have an excellent blog that describes a process parallel to ours in many ways, especially the New Year's entry.
We celebrated our first wedding anniversary this week. This time last year, our house project was only a dream. It is just amazing the new friends, new challenges and new views that one year can bring. It has been a year to remember – here's to many more to come!
M from the
RamsayHome
project
---
We are so inspired by the Ramsay's...going green at any level is not always easy, although using energy efficient lightbulbs and turning off taps is dead easy. They have clearly travelled a long journey over their last year but with the house, just like their marriage, they have arrived at the end of year one with a dream delivered, a foundation laid and a structure clearly visible. Like any good relationship...building it is not an overnight experience eh?
Namaste
Al
Technorati tags:
cityhippy
green
environment
sustainable
alternatives
energy
diy
house
build
architect
home
calgary
alberta
canada
oil
geothermal