FEATURE: The Ramsay Home Project (part 4)
Here in part 4 (
1
2
3
) of our regular updates from
RamsayHome
we hear how a house has a history and also how this project is starting to attract interest at a local level. Next stop perhaps they will get their own radio show on Canada's CBC, then maybe a move to TV awaits? I wonder who will play them in the Holywood movie that is bound to follow he he he.
---

History in the making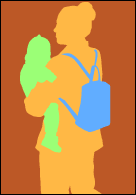 Progress is slow at the Ramsay house as we reorganize our contracts and
settle into working with a new team. Meanwhile, the project itself is
getting some local attention.
The inner-city site we are building on is narrow and slopes down a steep
bluff. The back lane is named Bison Path, reflecting the area's history as
a buffalo jump site. Many homes in Ramsay were constructed over a hundred years ago, which in Alberta, a province that celebrated its centennial last year, means they are as old as the hills.
The lot had a little prairie-sky blue cottage on it, which I lived in for four years before getting married. Built in 1911, the wind blew right through it. Every spring ladybugs and bumblebees hatched indoors despite repeated efforts to eliminate their entry. We looked into retro-fitting, but the expense was going to be far too high for the benefit.
During demolition, we tore up the hardwood floor to salvage the wood. It was insulated underneath with newsprint, and we found pieces dated 1910. We kept these to frame and hang in the new house. We also discovered buried underground wood frame windows, which explained the ghostly drafts as well as the insects. The foundations were crumbling, and despite our nostalgia, we knew we had done the right thing.
We are building the new house to last another hundred years – at least. We're keeping the footprint small and the exterior design will reflect a 1910 aesthetic. We hope to xeriscape as much as possible with native grasses and shrubs, and I am dreaming already of a small kitchen garden with heirloom tomatoes.
We've been invited to share our story with local students as part of a grade 12 DVD project on the history of Ramsay and the changing face of our neighbourhood. The interview is taking place this week. The new house is going to be much different than its windy predecessor, but will also carry its spirit forward. And, we are going to paint the exterior a true prairie-sky blue.
M from the
RamsayHome
project
---
Houses are such a part of the furniture but when we stop to look at them we find a home. History makes the house but people make the home. The house my wife and I now live in was built after WWII and we are only the third family to live in it. Wow! That always humbles me. We respect our house and we love our home. It is easy to see that the Ramsays feel the same way too.
Namaste
Al
Technorati tags:
cityhippy
green
environment
sustainable
alternatives
energy
diy
house
build
architect
home
calgary
alberta
canada
oil
geothermal
history